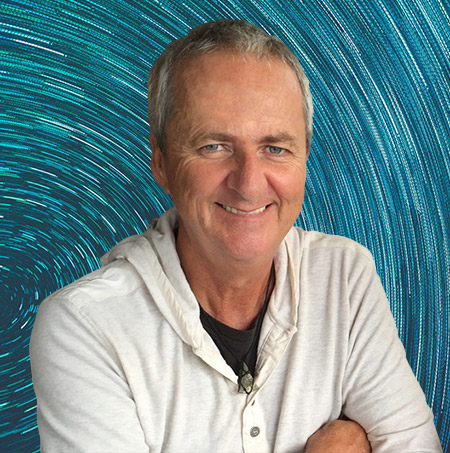 Hi I'm Dean. I was born and raised in Auckland, New Zealand in a family with four children.
After finishing school I studied building management for 3 years and went on to run some mid-sized building projects.
My greatest passion in my formative years always involved the ocean and sailing, where I spent many hours alone exploring. One of my hobbies as a youngster was to set up and maintain salt water aquariums and this along with my building expertise lead me to become involved in the aquaculture industry. It was during this period I built several marine hatcheries including a paua (abalone) farm.
Although I enjoyed each of the projects I was involved in, I always felt something was missing. It was during a very difficult time in my life that the spirit guides showed me my gift of healing. I realised I had always had this gift, I just needed to rediscover it within myself after shutting the spiritual side down during my childhood.
I spent many years looking for someone to train me and show me what to do with my gift but I eventually understood that I already knew everything I needed to know, and it was time to believe and to trust in myself.

So over the next few years my knowledge and trust did grow, allowing me to do healings on my family and friends and eventually on others as well. My children especially were very supportive. I am so fortunate to have two very spiritual children and no matter where I am in the world I can tune in and assist them on their spiritual path, as distance is of no consequence to the healings I do.
In 2007 my life changed completely. I left New Zealand to live and work in the Himalayan Kingdom of Bhutan where I was able to further develop my healing gifts to a new level. My experience of living and working in Bhutan centered my being which then helped me to understand my spiritual side. I was then able to integrate this learning into my own human experience allowing a deep understanding and compassion towards myself and others.
I entered Bhutan as a volunteer monitoring the construction of new schools and left a fully fledged healer where the monks began to call me 'Magic Hands'.
I now live in Byron Bay on the east coast of Australia where I run a successful healing centre. I have a deep belief in the ability of the human spirit to find answers and healing from within with the help of our spirit guides. I feel very blessed to be able to connect with these Beings of Light, bringing through their unconditional love and guidance, leading us in practical ways towards our healing and the life we all dream of living.
There are four key areas that I focus on: Your personal healing, the healing of your home and land where you reside, the healing of any animals and pets that you have as part of your family plus Business/Commercial healing.
Please go to the Work with Dean page for further details.